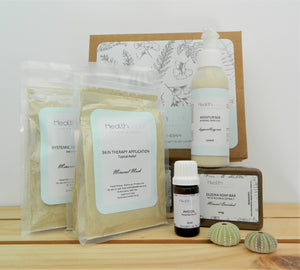 Eczema Therapy Kit
A pure and natural approach to managing your Eczema. No pharmaceutical products or ingredients. At Healthway we believe in treating the root of the cause and not just the symptoms. We have a five-step process that has allowed us to help people for over 14 years. ALL NATURAL
What are the 5 enclosed products?
1. Systemic Detox Therapy: This Detox is a blend of two volcanic minerals which draw positively charged impurities out of the blood and carrying them out of the body. Once the blood has been cleansed the skin will recover automatically.
Skin Therapy Application: Drawing out impurities from the skin's surface, using a purely natural ingredient.
Eczema Soap Bar: Vegetable based Glycerin and rooibos soap, perfect for delicate skin.
Mineral Moisturising: This is mandatory. Healthway has produced a natural moisturiser with volcanic minerals and natural oils to do just the job, the properties of the volcanic minerals make all the difference for your skin
Avo Oil: Adding extra moisture to your Skin Therapy Application will help to leave your skin moisturised, but not oily.
**Please Note: The Systemic Detox Therapy used, is a natural product, and although it has been used successful the help people for conditions and natural detox it is not tested by the medical control council. We do not claim to heal or remove medical conditions.
---